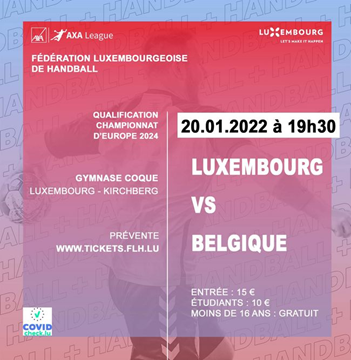 On Thursday 20 January 2022, the Red Wolves will play in and against Luxembourg, for the qualification of the 2024 European Championship in Germany.
The legislation regarding Covid-19 is different in Luxembourg than in Belgium. Supporters are welcome there.  Do you want to attend the match?  Order your tickets via this link (https://www.flh.lu/home/tickets/lux-bel ).
 The following rules apply for spectators aged 12 years and 2 months or older:
You must be able to present a vaccination certificate 2G (with booster)
OR two certificates (1 vaccination certificate and 1 recovery certificate) and a negative PCR test and negative self-test.
THERE IS NO TESTING ON SITE.
 WEARING A MOUTH MASK IS MANDATORY.