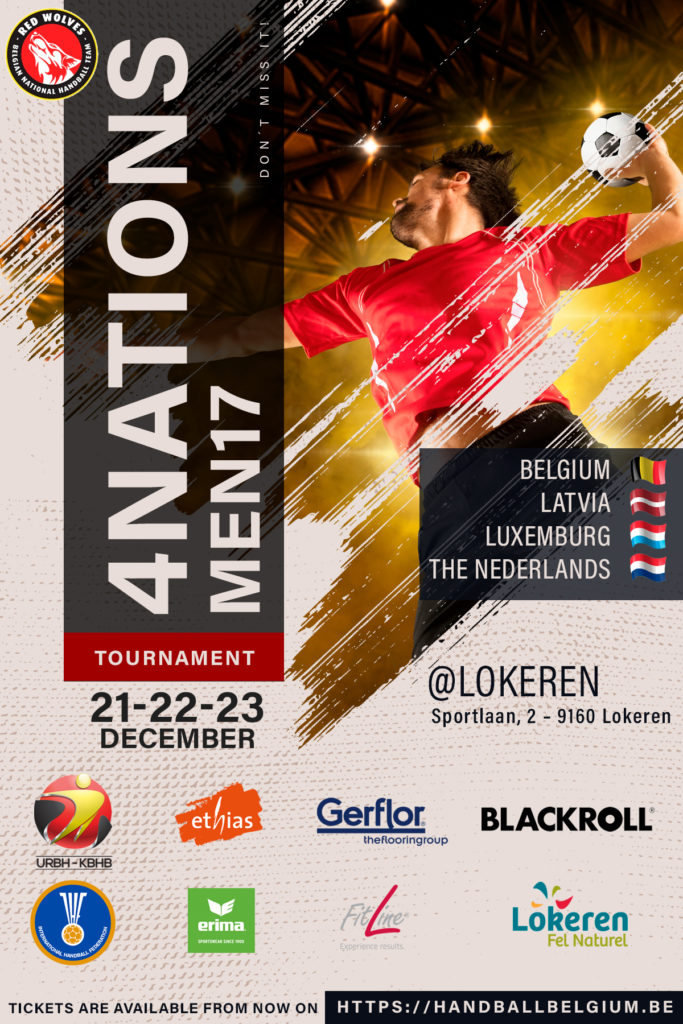 We would like to inform you about the organization of our 4nations tournament 2022 in Lokeren ! BEL-LAT-LUX-NED take part in this tournament for Men 17. You can find here the program.

You can buy places via tickoweb !

You can follow the livestream via our Facebook & Youtube channel !
See you in Lokeren to see the next gen' ?


Selected players :
Seth André – HC Sasja
Stan Baekelandt – Apolloon Spurs
Rein Baeten – Achilles Bocholt
Jef Buteneers – Achilles Bocholt
Louis De pauw – HV Uilenspiegel
Amaury De Regge – Hubo Handbal
Sacha Dubuc – HC Sprimont
Simon Dupont – Hubo Handbal
Louis Fransen – Hubo Handbal
David Kroyan – HV Uilenspiegel
Noah Lorgere – HC Kraainem
Simon Morrier – P. Kortessem
Alen Obarcanin – HC Kraainem
Arthur Schouterden – Hubo Handbal
Elias Vaes – Hubo Handbal
Ilias Van Thielen – HC Sasja
Florent Zubiaur – Visé BM

Reserve players :
Mauro Abrath – OLSE Merksem HC
Junior Antonissen – HV Uilenspiegel
Matteo Borghesio – HC Sprimont
Mikaïl Bouchamma – Hubo handbal
Ruben De Doncker – HvH Zandvliet
Anthony Kalala – Ren Montegnée HC
Pierre-Alex. Kalala – Ren. Montegnée HC
Victor Larit – Apolloon Spurs
Léni Martin – V. HC VISE BM
Némo Pascon – HC Sprimont
Cyril Pattacini – HC Sprimont
Gatien Rouffignon – HC Visé BM
Mathies Ulens – P. Kortessem
Victor Vaes – Achilles Bocholt
Cas Van Borm – HV Uilenspiegel