Sezoens Achilles Bocholt won the Belgian Cup for the fifth time.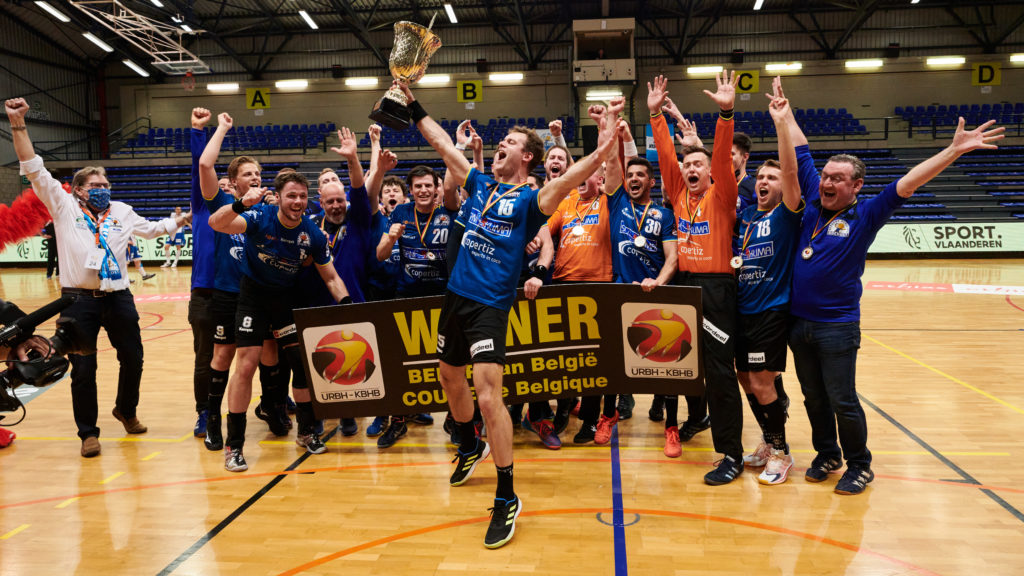 In an exciting and high-level final, the Limburgers defeated Visé with a score of 29 – 25. At halftime, the score was 15 – 10. For Sezoens Achilles Bocholt, it was a fifth success in this competition.
A Belgian Cup final played in an empty and soulless hall remains strange. In the absence of fans in the sport hall, the managers of Sezoens Achilles Bocholt and HC Visé BM have taken on the role of supporters. And it was Visé who jumped first, when Yves Vancosen opened the scoring after 1.17 . Wout Winters took it upon himself to put the teams back a few seconds later: 1 – 1. After 9 minutes, Achilles Bocholt had a first advantage of 2 goals, but a minute later, the score was 7 – 7 and everything had to be redone. The two teams were evenly matched before Rola, Spooren and twice Colman built a 4-point advantage at the end of the 22nd minute of play: 13 – 9. Visé's coach Korneel Douven tried to find a repartee with a time dead, which allowed his team to show more. But the goals did not follow, especially the consequence of an excellent goalkeeper from Bocholt. For four minutes, the score did not change, until Yannick Glorieux took advantage of an empty cage for Bocholt: 14 – 9. The two teams joined the locker room at half-time with a score of 15 – 10.
In the second half, we had to wait a little while before the two teams found an opening. After 2 minutes, Serge Spooren brought the score to 16 – 10. Visé reacted after 5 minutes with 4 consecutive goals, falling to 18 – 16. Bocholt was not fooled and Colman reduced after 13 minutes the advantage to 4 points, 21 – 17. Visé was not defeated so far, falling to 23 – 22. The gap was once again almost closed, but Colman, again him, and Spooren allowed Bocholt to maintain a gap. Visé was going to show devilish mental toughness, and after 23 minutes it was 25 – 24. But just like earlier in the second half, the team from Liège were unable to come back. The latest equalizer attempt was twice nipped in the bud by goalkeeper Arjan Versteijnen. At the cost of masterful saves, he maintained his team's advantage at 27 – 25. In the final moments, Bocholt scored twice, to finally win with a score of 29 – 25. And Sezoens Achilles Bocholt to win for the fifth time the Belgian Cup.